MMMMM
the M5 on the Merritt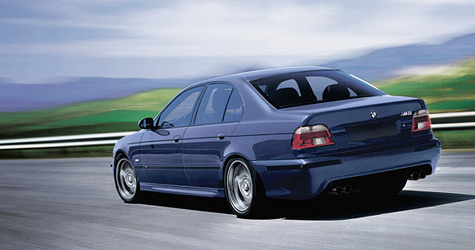 James has this desire for a license plate of M's - five of them. For the longest time, I didn't get it, "What's the big deal?" I would ask. I finally got a sufficient answer.
Recently I saw the BMW film entitled The Star, just to get it out of my system and make my own determination of whether or not the "film" is any good. While I won't rate the short film just yet, I will say that an adrenaline rush is an accurate description for the sensation that consumed me. This feeling continues to affect me everytime I slide behind the wheel of my own vehicle. In fact, I have found myself revving the engine unnecessarily - all too frequently. That said, I will bring you up to speed -no pun intended- with my latest adventure: the M5 on the Merritt.
So there I was cruising along at an enjoyable eighty miles an hour, feeling happy as a lark, when hark!! I see these funny looking head lights in my rear view mirror - rapidly approaching. I am by no means a jerk on the highway, and I have to say my curiosity was peaking about who the heck this was catching up to me - hoping of course it wasn't a Connecticut State trooper. I pulled into the slow lane as these headlights grew in size and clarity behind me.
What could it be? Do my eyes deceive me in this twilight? The headlights were O's - nothing in the middle, just a ring of light. Funky fresh fog lights? I don't know... as I pulled over the o-ring headlights and the car that they belonged to decided to pass me by. A blue BMW, four door... as I read the rear deck lid, I confirmed my suspicions: ///M5
Yeah baby!
So me being the man that I am, dropped back down to fourth gear and decided to pursue - show mister M5 what my baby could do. The next few miles of the Autobahn -err Merritt- found two German machines screaming at triple digit speeds through these sharp turns, clearly marked 45mph by lots of yellow signs. And when I say screaming, I do mean that high pitch yell, like a bat out of hell, only found on the far side of 120mph. We swapped the lead several times before reaching last leg of my journey - neck and neck into the home stretch... and then I lifted off of the accelerator, switched on my turn signal, and waved good bye....
I have seen the ///M5 in action - woah! is my reaction; that car is a beast. Oh, and if you haven't seen the movie yet, that's pretty good too.