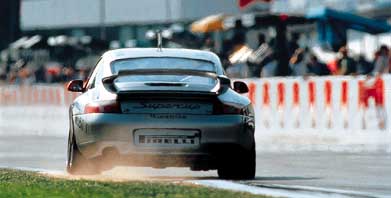 The Rolex 24 Hours of Daytona. The Rumdogs Racing team enjoyed the first race of the '99 season January 30th, 1999. This year the team represented with two cars; our new 1999 Porsche Supercup edition 996 and our 911 GT2!
The crew would like to thank Porsche Cars North America, Bosch, BBS, Hella, Shell Oil Company, Pirelli Tires, Anheuser-Busch, the Nokia Corporation, and the good people of the world that support and sponsor our cause.

We also would like to thank Krispy Kreme Donuts, Seven Eleven,Gateway, Peter Pan Bus Lines, AT&T Wireless, and American Express Centurion Bank.
For more information on the rumdogs racing team, or to become a sponsor, please contact us at racing@rumdogs.com