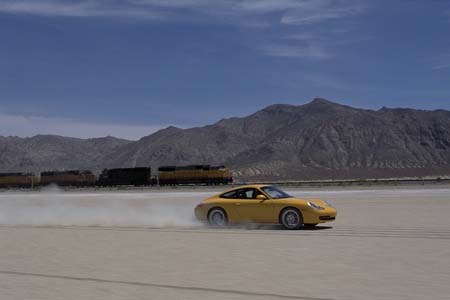 The Battle in the Desert - the showdown in the old wild West! The Rumdogs Crew represented in Nevada in three new 911's. Although we were not there to race, we still came in full force...
Our route took us from Las Vegas to Reno, using the scenic route of course. For the most part, we remained in compliance with local traffic safety laws, rules, and regulations... well, sorta.
In any case, the crew would like to thank Porsche Cars North America, Bosch, BBS, Hella, Shell Oil Company, Pirelli Tires, Anheuser-Busch, the Nokia Corporation, and the good people of the world that support and sponsor our cause.

We also would like to thank Krispy Kreme Donuts, Seven Eleven, Gateway, Peter Pan Bus Lines, AT&T Wireless, and American Express Centurion Bank.
For more information on the rumdogs racing team, or to become a sponsor, please contact us at racing@rumdogs.com
Back to the Rumdogs Racing Team
Back to the Road Trips
Back to the Picture Pages